This episode finds Matthew Kresal, Mary Lang and Robert Haynes reviewing Sympathy For The Devil and Masters Of War, two stories from Big Finish's Doctor Who Unbound range starring David Warner as an alternative third Doctor. Topics discussed include Warner's performances in the stories, the appearance of actors who would become better known via the New Series and how the stories present new versions of familiar villains from the series.
After the episode, Stories From The Vortex proudly presents Big Finish Sound Designers Podlet - Masters of War. In it, sound designer and composer Martin Johnson discusses his work on the story from his initial ideas to getting the story into its final released form. Originally released on the Big Finish website in December 2008 and no longer available on the site, it appears here through the kind permission of Big Finish Productions.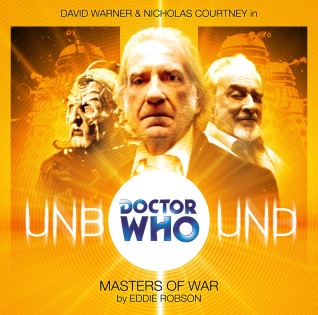 If you'd like to send in feedback to the podcast you can do so at feedback.vortex@yahoo.com and you can join the podcasts's Facebook group. We're a proud member of the Doctor Who Podcast Alliance.
Stories From The Vortex is an unofficial and unlicensed Doctor Who podcast and is not affiliated to the British Broadcasting Company (BBC), AudioGo or Big Finish Productions in any way. Doctor Who is a registered trademark of the BBC. No copyright infringement intended.